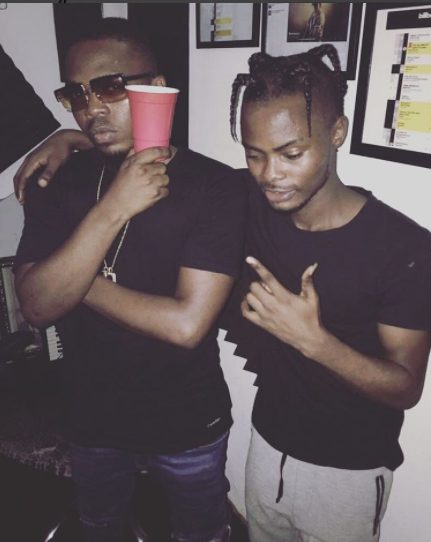 LRR act, Oladips and YBNL boss, Olamide, are set tod rop a new track togther.
Oladips, who recently dropped a new song, CHACHE, took to IG to share a photo of himself with Olamide, announcing a new collaboration with the OWO BLOW crooner  and asking his fans to suggest a song title.
His post read:
Time With The King ?!!! @baddosneh … Give This Track A Title ??? ??????
His fans of course commented and some of the titles are just down riht funny. See some of them below and join in the fun on here:
codedsneh1Street combo
olasneh12Irumole Reloaded ?
adewalecharlesThe King and the prince
lord_of_jumizJugunu
lord_of_jumizThat is d title king dips
tz_porshYou dreamt?? Now is the Reality?? #Dreams_n_Reality???
tz_porshTrack title– #jugunu@lord_of_jumiz ??
de_mehkarespectful… like that ???
tovido_illegalJonzing level!
korede.folarinYes ur dream is naw reality oloun I don dey Wait for dis track e don tail……omoyami oti blow.
bodejohnnyGod answers prayers
ps_smilingRhythm and Poetry (RAP). THAT WILL BE A UNIQUE TITLE
iamolamichealOSHA meji
yungemmaxTakeover
debby_reiqnzMai two bighead babies.
sqo_sacuxzeEmalo wa Oooh
The post Hilarious! Checkout Some Of The Recommended Song Title For Oladips And Olamide's New Track appeared first on tooXclusive.
Source: Hot Topic